After making the chart above, I started to wonder about the accuracy of the signal strength readings given by the HDHR tuner. I have never used an HDHR tuner, so I ordered an HDHR4-2US Connect Duo to make some tests.
When it came, I connected it to my Windows 7 laptop with a network cable. I went to my.hdhomerun.com which told me there wasn't a tuner connected, so I couldn't immediately download the software. I then went to the SD website and downloaded the software. I still wasn't able to connect until I entered the correct IP address in my network adapter and changed settings in my Norton software. I'm not a software expert, so this was becoming much more difficult than turning on a TV and going into the menu.
I set up the tuner and my 32" Sony TV with a splitter so that I could compare tuner sensitivity and signal readings. I picked my strong channel 33 to check the 100% signal strength reading of the HDHR and my marginal channel 9, that has just barely enough SNR above the noise, as test signals.
My 32" Sony KDL32R400A is a little different than most other Sony models. Its signal strength indicator goes all the way up to +41 dBmV (-8 dBm) at 100% instead of maxing out at 0 dBmV for 100% as most other TVs. Each step on the scale is one dB and I calibrated it with my signal level meter so that it can be used for tests like this.
I adjusted a step attenuator before the splitter so that the HDHR SS was 100%:
HDHR Signal Strength 100%, Signal Quality 98%
Sony TV SS 62 (+3 dBmV), SNR 28-29 dB
So the HDHR 100% was pretty close to 0 dBmV, considering my measurements aren't lab grade.
My marginal channel 9 signal looks like this; just barely enough SNR above the noise:
I adjusted the attenuator to make the signal weaker at the "Digital Cliff" to see which tuner would drop out first. To my surprise, the Sony tuner dropped out first; the HDHR tuner is more sensitive than I expected. It was still giving reliable reception at 50% Signal Quality.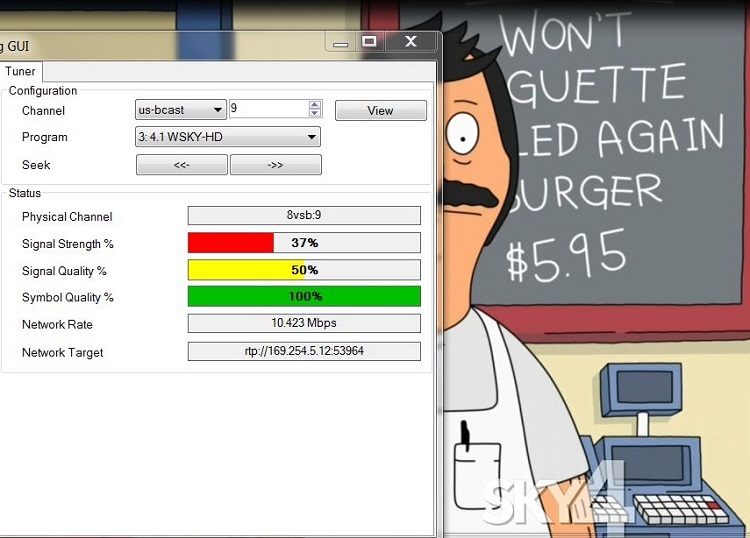 At 49% Signal Quality, the Symbol Quality often dropped down into the red at lower readings: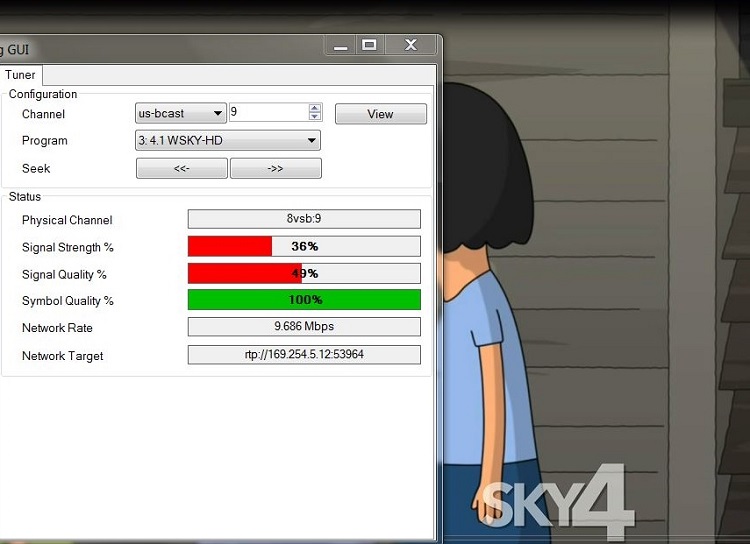 and finally dropout: